Heidi by Johanna Spyri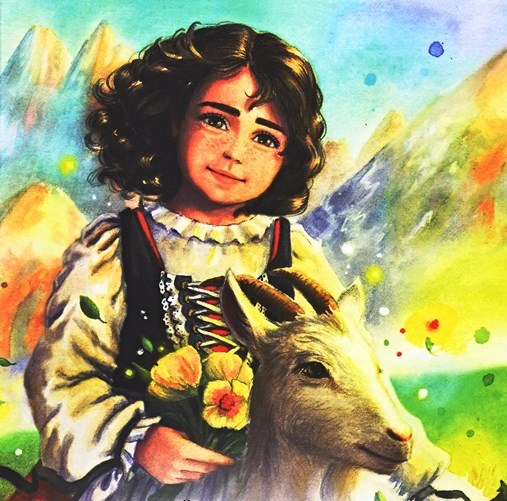 Johanna Spyri, original name Johanna Heusser, (born June 12, 1827, Hirzel, Switz.—died July 7, 1901, Zürich), Swiss writer whose Heidi, a book for children, is popular all over the world. Her psychological insight into the child mind, her humour, and her ability to enter into childish joys and sorrows give her books appeal and lasting value
The story is about a girl named Heidi, who lives with her grandfather in the Swiss Alps after her parents passing away, when she was only six years old. Although her grandfather lives far from civilization, and the residents of the nearest village think of him as an eccentric and recluse, he is taking a rather good care of Heidi. Rough and inaccessible at first glance, he does everything within his possibilities to provide her all the essentials, but also teaching her about the harsh life in the mountains. Heidi enjoys living with her grandfather because she is receiving enough of love and affection, also enjoying the nature around her and the comfort of her home.
But still, Heidi keeps growing so her grandpa decides to return her back to the town of Frankfurt, where she could receive education suitable for becoming a lady.
When Heidi goes to Frankfurt to work in a wealthy household, she dreams of returning to the mountains and meadows, her friend Peter, and her beloved grandfather.
Table of content
Chapter 1 Up the Mountain to Alm-Uncle
Chapter 2 At Home With Grandfather
Chapter 4 The Visit to Grandmother
Chapter 5 Two Visits and What Came of Them
Chapter 6 A New Chapter About New Things
Chapter 7 Fraulein Rottenmeier Spends an Uncomfortable Day
Chapter 8 There is Great Commotion in the Large House
Chapter 9 Herr Sesemann Hears of Things Which Are New to Him
Chapter 10 Another Grandmother
Chapter 11 Heidi Gains in One Way and Loses in Another
Chapter 12 A Ghost in the House
Chapter 13 A Summer Evening on the Mountain
Chapter 15 Preparations for a Journey
Chapter 19 The Winter Continues
Chapter 20 News from Distant Friends
Chapter 21 How Life Went on at Grandfathers
Chapter 22 Something Unexpected Happens