Rainbow Valley by Lucy Montgomery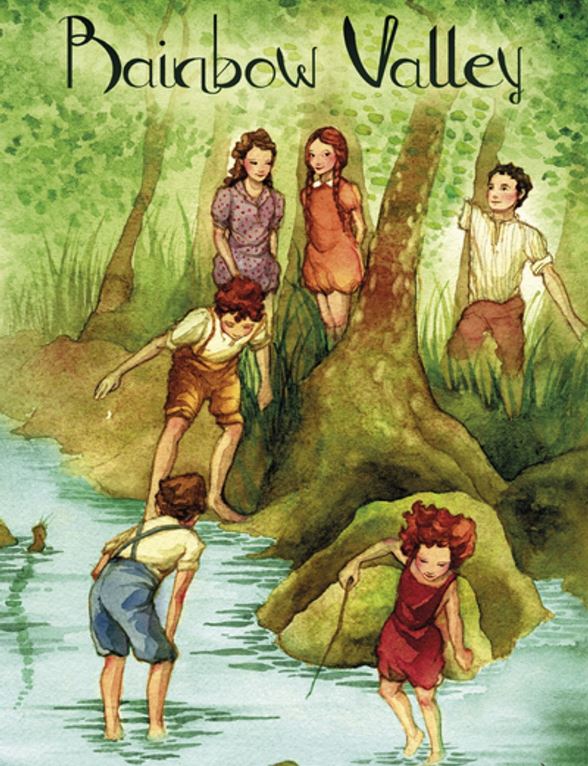 Rainbow Valley is the seventh book in the Anne of Green Gables series by L. M. Montgomery. Unlike the first six, this book centres on Anne and Gilbert's children (Jem, Walter, Nan and Di mainly) and their friends, the four Meredith children (Jerry, Faith, Una and Carl) as well as a runaway named Mary Vance.
Content
Chapter 3 The Ingleside Children
Chapter 5 The Advent of Mary Vance
Chapter 6 Mary Stays at the Manse
Chapter 8 Miss Cornelia Intervenes
Chapter 10 The Manse Girls Clean House
Chapter 11 A Dreadful Discovery
Chapter 12 An Explanation and a Dare
Chapter 13 The House on the Hill
Chapter 14 Mrs. Alec Davis Makes a Call
Chapter 18 Mary Brings Evil Tidings
Chapter 20 Faith Makes a Friend
Chapter 21 The Impossible Word
Chapter 22 St. George Knows All About It
Chapter 23 The Good-Conduct Club
Chapter 24 A Charitable Impulse
Chapter 25 Another Scandal and Another "Explanation"
Chapter 26 Miss Cornelia Gets a New Point of View
Chapter 30 The Ghost on the Dyke
Chapter 32 Two Stubborn People
Chapter 33 Carl Is—Not—Whipped
Chapter 34 Una Visits the Hill
Chapter 35 "Let the Piper Come"